Welcome to Best Webs!
learn about us
A domain hosting company does just that: hosts your domain name on its servers so Internet users anywhere can type in your URL and access your Website by domain name.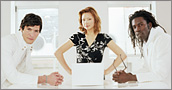 In most cases, domain hosting and Web hosting are the same thing. A domain name actually provides a shortcut to help users access your Website. Every site-hosting server in the world has its own unique Internet Protocol, or IP, address. Rather than having to type in a complex IP address like 208.97.191.15, though, DNS (for Domain Name System) allows you to type in an easy-to-remember URL like www.webhostingreport.com and access the Website you want that way. You can register your own domain name via either a domain registrar or domain host. Many hosts also offer additional domain services, including the ability to host multiple domain names and sub-domains on a single account. Registrars and hosting companies can also park your domain name if you want to reserve a particular name for yourself but aren't ready to put up a Website yet. If you are concerned about privacy, you might also want to seek out a host that can help you with private domain name registration. Private registration ensures that spammers canít find your email address via a domain name registration database.
read more about
Featured services
What you can expect...
We offer many service and support configurations.
Full Hosting Packages
Large or small you will find that each of BestWebs Full Packages are jam packed with features to ensure your web site is able to function properly and that you, as the Site Owner, have all of the tools necessary to build and maintain the site with ease.
Extra Full Domains & Subdomains
BestWebs' Internally Redirected Domain options allow you to share your main package with multiple other domain names whether you want all of the domain names and email to point to a single web site or each to point to their very own, BestWebs can make it happen!
High Capacity Hosting
The HC Solution works just like the other full packages available from BestWebs with the added benefits of enormously higher disk space, bandwidth, and overall resources by placing these larger sites on special High Capacity Servers that hold less than 20 accounts each!
Parked & Externally Redirected Domains
Domain Parking is the perfect way to reserve your domain name and to be able to use it for your incoming and outgoing email messages even if you are not yet ready to build a full web site. Externally redirected domain names are a common solution for site owners that begin their first web experience using a free hosting service. At some point they wish to get their own domain name, to ease the locating of their web site, but still may not be ready for a paid service. Externally redirecting the domain name to the current web site is often the best solution for these situations.